Russian director Kirill Serebrennikov, whose criminal record was expelled from Russia in March, told Variety magazine in an interview that he was working on a film about Russian writer and politician Eduard Limonov, who died two years ago. . Limonov in the film will be played by Ben Whishaw, known in particular for his role as Q in the James Bond films. Serebrennikov promises to show the first images at a private screening for buyers at the Cannes Film Festival.
Limonov's first wife, Elena Shchapova, will be played by Victoria Miroshnichenko, known for Kantemir Balagov's film "Dylda".
In an interview with Variety, Serebrennikov said the film The Ballad of Eddie would be an adaptation of French writer Emmanuel Carrère's biography Citrons (published in Russian in 2012), and described it as a "poetic biography of the writer.
In the middle of filming, Russia attacked Ukraine, but in Russia, according to Serebrennikov, they managed to shoot about half of the film. The scenes that take place in New York according to the plot remain unfilmed, they will be shot in one of the European countries, they plan to complete these shootings in six weeks, Serebrennikov said. The festival premiere is scheduled for spring 2023. The trailer will be released on May 17.
"When it all started, we were shooting a movie, and people on set were reading news from various sources on their phones. When you're working on Limonov's story, you read all of his books, put everything in perspective, and then you see how reality erupts with fire, smoke, explosions and bombings – maybe even the house where Limonov lived – it's something amazing and strange. I don't know not how to explain it," shared the director.
When the war started, Serebrennikov realized that "we are in Limonov's dream", he says.
Kirill Serebrennikov is one of the most famous modern Russian directors. In Russia, he was convicted of bribery, the criminal record was removed from the director only at the end of March. In June 2020, Kirill Serebrennikov was found guilty of embezzlement of funds allocated by the Ministry of Culture to the Platforma project.
Who is Eduard Limonov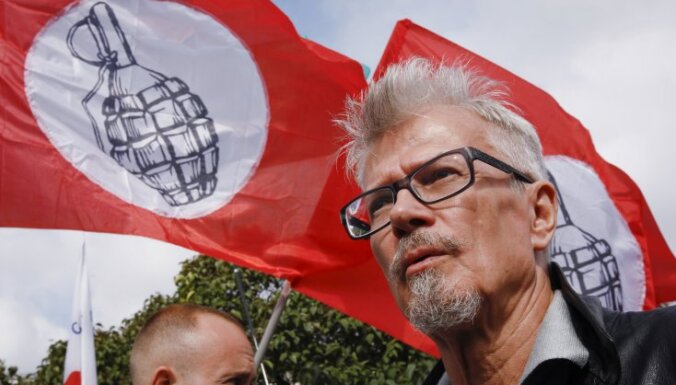 Eduard Limonov (real name – Savenko) was born in 1943, spent most of his childhood in Kharkov (in the Saltovka region, often mentioned in recent weeks in the news about the Russian bombings). He started writing poetry at the age of 15, but his first novel – "This is me, Eddie" – was not published until 1976 in the United States, where he emigrated in 1974 – as he himself explained, under pressure from the KGB.
In the United States, the writer joined the Socialist Party and criticized local authorities. In 1980 he moved to France, where he supported the Communist Party, and in 1987 he obtained French nationality. During these years he published seven other short stories and novels, as well as several collections of short stories.
After the collapse of the USSR, he returned to Russia and restored Russian citizenship. At the same time, his works of art began to be published in Russia for the first time.
In 1993, Limonov founded the National Bolshevik Party, which was later recognized by a Russian court as an extremist organization and banned. In 2010, on its basis, a new opposition party called "Other Russia" was created.
Limonov was one of the creators of "Strategy-31" – a regular action held on the 31st day of those calendar months in which there is such a day. Its participants supported Article 31 of the Russian Constitution, which guarantees citizens freedom of assembly and was not officially abolished after the 2020 amendments.
Yet in 2014 Limonov, a staunch critic of Russian President Vladimir Putin's policies, backed the annexation of Crimea and a creeping invasion of Ukraine, including the creation of self-proclaimed puppet 'people's republics' on its territory. .
Source: delfi