The creator of the cult films of the early 2000s "DMB" and "Down House", director Roman Kachanov, refused the premiere of his new film "March of the Morning Dawn" in Moscow in order "willingly or unwillingly not to not support aggression and hell, creating a background of well-being." And came to Riga. On August 8, on the screen of the Splendid Palace, Artemy Troitsky and Garik Sukachev will probably meet for the last time – today they are on opposite sides of the front. The film was the debut of 60-year-old Zhanna Aguzarova and many young actors. During the preview screening in Jurmala "kvartirnik" format, the author shared his thoughts on the film and the era.
"I believe, the night will pass, the fear will disappear. I believe, the day will come, everything in the rays…" – the radiant guest of the future Zhanna Aguzarova sang in the early 90s. During these years, the young director Roman Kachanov shot his first film "Ask Me Nothing" in Riga with Juozas Budraitis and Emmanuil Vitorgan, where the events audaciously revolve around the semen analysis laboratory.

"Work done. One of them has spoken. We're going home at night." – with this song by Boris Grebenshchikov, Kachanov's new film "March of the Dawn" ends. The colleagues were puzzled, well, why does a movie about kindness and freedom have such a dark ending? The director then himself did not quite understand, but he felt something. Post-production was completed after February 24, 2022, when "the air became so thick it was impossible to breathe". After completing the work, the director grabbed his suitcases, children and left the country.
"Be sure to strike! And more than once! The whole world is in dust!"
Kachanov grew up in the family of a cartoonist and his full namesake – the creator of "Cheburashka" and "Secrets of the Third Planet" Roman Kachanov. Subsequently, stuffed ears and composer Vladimir Shainsky more than once mysteriously wandered around the paintings of the son (both are strangely present in the last work).
The screenplays for the films "DMB" and "Down House", which became cult at the turn of the century, were written by Roman together with his classmate Ivan Okhlobystin. Their jokes about Russia and Russians turned out to be dark prophecies.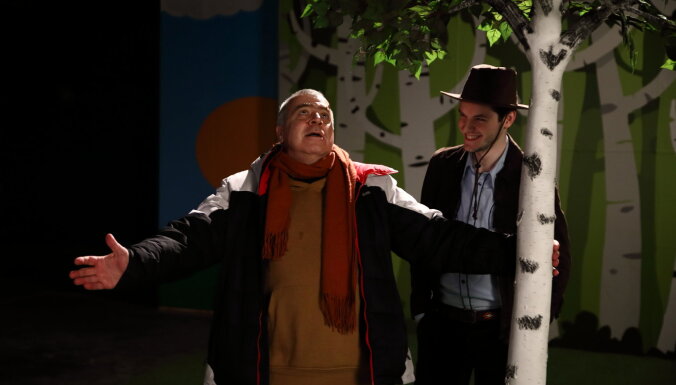 Judge by yourself. There is "trial for indecent assault of a minor Ukrainian citizen", and "cohabitation with the responsible secretary of the Security Council for a lot of money", and the "platinum" American Express "is not accepted everywhere , especially in this viper", and "the general still sometimes distorts reality – out of habit misinforms the enemy", and "I recently saw the top secret maps of the General Staff – there is no no America there".
And also "it was a difficult year: taxes, disasters, prostitution, banditry and shortage in the army. It was impossible to support the latter, and a knowledgeable person, our military commissar, went to work", and "army is not just a nice word, but a very fast thing – so we won all the wars", and "maybe we will strike? We will definitely strike! And more than once The whole world is in ruins!", and "The Russian soldier never surrenders. He has nothing to lose. This is our main military secret."
Today, the paths of former successful co-authors have diverged dramatically. Swept away and other colleagues in the store. It was most difficult of all for those who were heavily dependent on state funding, and those, in Kachanov's opinion, who diligently avoided state benefits, were 99%: " A lot of them are pretty tight. Why are they quiet – you'd better ask them."
Source: delfi